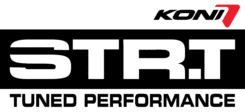 Ready 4 STR.T?
Ready for the road? For curves? For adrenalin? For fiercely defined ideal lines and every amount of centrifugal force? We know what excites you. With the introduction of the STR.T Kit, we give everyone the ultimate road feeling of a KONl sport chassis – the quick and easy way.
Even when driving conditions are pushed to the limit, you can fully rely on our expertise. The extremely high reaction speed of the STR.T makes sure of that.
Are you fast enough?

Features:
Unsurpassed price/performance ratio thanks to customised synthesis of quality, technical know-how and impressive performance.
Perfect road holding and optimum handling thanks to a perfect combination of orange twin-tube dampers and blue SPORT springs.
Individually tailored – just the right STR.T Kit for every type of vehicle directly from the factory.