| | |
| --- | --- |
| The Bott Family history has been involved with retail tyre sales for more than  45 years. Arthur Bott founded the company  with his two sons Alan Snr & Keith. The company first started off at the same premises where Grandad Arthur, Dad and Uncle Keith (who now runs his own aerial photography business: http://www.helibott.com/) used to keep coaches near Enfield Street, Pemberton. However, long hours and family pressures forced the need to turn away from coaches and look for another form of business. | |

Our professional staff are always there to assist you and give you the best advice.

Due to this, we decided to start up a company called Pemberton Tyres. They quickly grew from strength to strength; so much so that in 1986 both Pirelli and Kwik-Fit wanted to buy this very successful family business. The deal was struck to sell to Pirelli and Alan (Snr) and Alan (Jnr) were asked to stay on for at least 2 years for goodwill purposes. After a frustrating 2 years – watching their small family business getting swallowed by Pirelli, we, Alan (Snr) and Alan (Jnr), decided to start "Pemberton Tyres" again, this time in new premises. This is in the centre of Pemberton behind the White Swan Pub (Fitting Bay is in the photo above). Sadly after 18 months of trading, disaster struck when Alan (Snr) was involved in a serious car crash. Recovery was long and Alan (Snr) was unable to work again. This was a difficult time for the  Alan (Jnr), facing a new venture without the support and expertise of his father, but The success of Pemberton Tyres today is based on a personalised and top service to all their customers; ranging from high-mileage drivers to off-road drivers. But, whoever you are, our twin priorities are safety and value for money at all times.

Our tyres snugly fit a whole world of vehicle wheels from Ferraris and hot hatches; looking for the best performance rubber, through top quality, professional tyres which give comfort and cornering grip, right down to dependable and long lasting tyres for the small family saloon. We even supply remoulds and deep tread part-worn for most vehicle types.
If you've got the car – we've got the tyres!! No job is too small or too large for either our depot staff or our mobile team. You can come to us or we can come to your home or office, rain or shine, where we willingly work around you to make your life easier.

We pride our selves in giving the best deal possible when selling tyres, alloy wheels, standard or performance exhausts, brakes and all accessories.

For alloy wheels we are also happy to show you both photographs and samples of different wheels to match that wanted look before fitting to your car. With a list of quality manufacturers such as this you know the refurbishment service we can provide is just unbeatable.

Small kerb scuffs can usually be repaired, in house, on the same day. To send all 4 wheels away for total re-conditioning to showroom standard may take up to 5 working days with prices starting from £320 fully inclusive. In this case (subject to stock availability) we will look to supply you with wheels to keep your car on the road whilst you anticipate the return of your good-as-new set.
We can assist you at home or at work, or we can come and pick your car up. Our on-site service is a way of helping you in a breakdown situation or if you are struggling to find time to visit us.
Whether you are interested in preparing your car for towing (eg trailers or caravans) or changing its street-look by lowering it to the limits, we can advise on safety issues and undertake this engineering work for you. Expanding fitment or parts and accessories we have moved into providing exhausts from the standard mild-steel exhausts (as per original spec) for family cars, up to big-bore stainless steel for the sports enthusiast. Other accessories include stud conversion plates to enable wider wheel choice, performance air filters, locking wheel nuts, brake pads and discs – you name it, we probably do it. So give us a call or pay us a visit and remember make your FIRST STOP your best stop at PEMBERTON TYRES.
CELEBRITIES
Four First Stop dealers, including Pemberton Tyres, got together for the Truck Fest Show 2006-2007 at Haydock Park Racecourse. 2008 fest was cancelled due to bad weather. Many well known celebraties made an appearance for the event; VIP's including Coronation Street's Tina O'Brien (Sarah Platt), Kym Ryder (Michelle), Simon Gregson (Steve McDonald) and many more.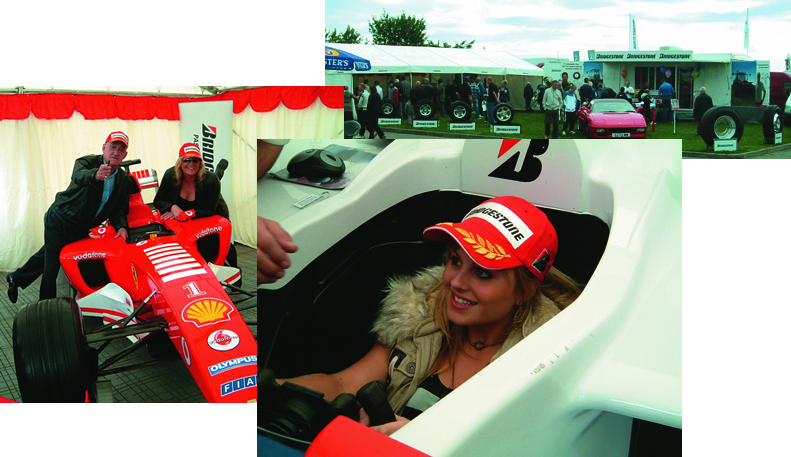 Other VIPs at this event were Jim Bowen from Bulls Eye and Sally Traffic from BBC Radio 2, Girls Aloud star Sarah Harding ,ex Corri star and now singer Richard Fleeshman & Bob The Builder.