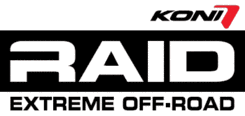 With an experience in shock-absorber designing and manufacturing for many years, KONI, leader in Heavy Duty dampers (buses, trucks, trailers, military applications, railway, etc. …), has decided to combine its high level of technology and its 4×4 market knowledge to create a new range of dampers dedicated to the raiders.
The Heavy Track RAID shocks are reliable high quality replacement performance parts for customers who seek a non sophisticated but effective product to do the jobs it's designed for; to finish in off road rally raids.
The main features of the new Heavy Track RAID series are:
Twin-tube technology:
– Outer tube thickness of 2.5mm. Damper function guaranteed in case of deformation of outer tube by impact of rocks.
Reservoir tube:
– Big bore (70mm).
– Oil volume has been doubled for better cooling & efficiency
Attachments:
– Solid, robust attachments.
– Attachments welded all around (360°)
Adjustability:
– Possibility to adjust the rebound forces in order to adapt your damper to your springs and / or loads and so increase its life-span.
Double dynamic protection:
– Rebound: progressive hydraulic rebound stop valve.
– Bump: extra security in case of big compression impact.
Easy fitting:
– Heavy Track shock absorbers make use of original attachment fittings. No vehicle modifications are necessary.