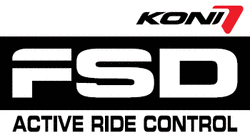 The first shock absorber offering superior road-holding without compromising comfort.
KONI introduces FSD, the first no-compromise shock absorber in the world. A revolutionary new technique which combines the benefits of firm and comfortable suspension in a single perfect shock absorber. Firm for sporty driving on even road surfaces. Comfortable for a smooth ride on uneven road surfaces.
Realizing the seemingly impossible!
Two characteristics that seemed diametrically- opposed, proved to be a source of inspiration for specialists from KONI. Following lengthy development and testing, the ultimate solution was reached: KONI FSD – Frequency Selective Damping.
A revolutionary new technique whereby the benefits of both types of ride characteristics are combined in one perfect shock absorber. Banishing the disadvantages of the past. FSD shock absorbers; a smart suspension system adjusting automatically to road conditions as well as driving style. And all of this in a fraction of a second. FSD guarantees greater stability, greater control and thus greater driving pleasure.
KONI reconfirms with the FSD innovation a leading position as innovative supplier of high-quality shock absorber products.

Advantages of FSD
Ends the compromise between comfort and handling
Can be integrated in conventional damper layouts
No need for sensors, cables, or other electronic devices
Creates an additional variable in fine-tuning the car's behaviour
Quick and easy to develop for existing suspensions
Damper cost efficient