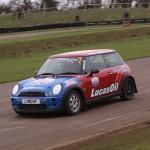 Pemberton Tyres-backed Rallycross ace Tony Lynch kicked off a new era in his racing career with a podium finish as the 2013 MSA Monster Energy British Rallycross Championship got underway at Lydden Hill at the weekend.
After three years of competing in the Suzuki Swift category, Tony and Lucas Oil Team Geriatric have switched focus to the equally competitive BMW MINI series, with the opening round of the new season marking Tony's first appearance in the class.
With the late nature of his deal to contest the MINI series meaning preparation of his own newly acquired car is still ongoing, Tony took the decision to lease a car from elsewhere for the first meeting of the year, with his team working to prepare the car for the Lydden weekend.
Running in a striking new Lucas Oil livery, Tony set the fifth quickest time in practice before the team set to work on making improvements to the MINI, with Tony then making forward progress throughout the three heats to secure a place on the front row of the grid for the all-important final.
Despite the fact that his leased car was down on power, Tony produced a solid performance in the final to secure third place behind siblings Keifer and Kris Hudson, ensuring a strong points haul with which to start his championship campaign.
"After three years in the Suzuki, we felt it was time for a change and the BMW MINI class is an exciting challenge for us," Tony said. "The MINI is also a good fit for us with Lucas Oil and is a car that people can relate to as it's so popular with drivers on the road.
"With our new car being built up at the moment, we decided to lease a car to use for the early part of the season. The car was down on power a bit which didn't help us at Lydden Hill and we'll rectify that for the next round, but the boys worked hard to improve it over the weekend and we improved every time we went out which is a real positive.
"While it is always nice to win, I think we did everything we could this weekend and to finish on the podium is a job well done. We know there is a lot more to come as we learn about the car, and when our own car is ready, so to be third in the first meeting of the season is a good start. We can take a lot of confidence from our performance this weekend."